Structural Analysis using Finite Elements Model
Structural analysis has never been thought of optimally in many parameters. The knowledge of these tools (Finite Element Modeling) is a design product for metallic materials and metal alloys, but also the use of composite materials such as Carbon Fiber, Glass and even structurally evaluate components used with thermoplastic materials.
Some of the studies performed
Developed Project – Montain Bike Carbon Fiber Frame
We have developed a Carbon Fiber frame to be used for a mountain bike.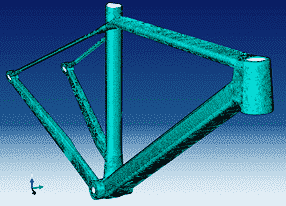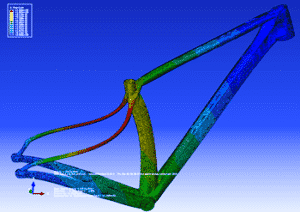 The objectives to be achieved were:
Weight reduction / optimization
Increased structural stiffness
Evaluate structural solutions with aerodynamic contents
Technological evaluation to be used in the manufacture of the frame
here some of the results obtained:
Weight of the frame:  820 gr
Improvement of 16% of the aerodynamic profile, Cx
Structural safety coefficient >= 3
Vari Case Studies

Here below some case studies, analytical techniques that has been validated, representative of the projects dealt with in our design business.
Nonlinear structural analysis: simulation of a 1800 kg load cell, contacts with elastic stiffness and contact with friction:
Linear structural analysis: simulation of a loaded beam at extremes, contact with elastic stiffness and contact with friction.
Dynamic analysis of the vibration modes 

(2 vibrational analysis: no load and with load in Y = 4000 Kg).
| Static Analysis | Dinamic Analysis |
| --- | --- |
| | |